WEEK 3.9 Happy Spring! I hope you had a restful and rejuvenating Spring Break :) ----->
https://5il.co/1r0rc

WEEK 3.8 Have a great week and a wonderful Spring Break :) As the temperature begins to warm I would like for students to be mindful of shorts/skirt length. Also, Airpods and smartwatches are not allowed on campus. BEARCAT MADNESS WEEK-------->
https://5il.co/1q6lh
RJHS WEEK AT A GLANCE 3.8 ----->
https://5il.co/1q6li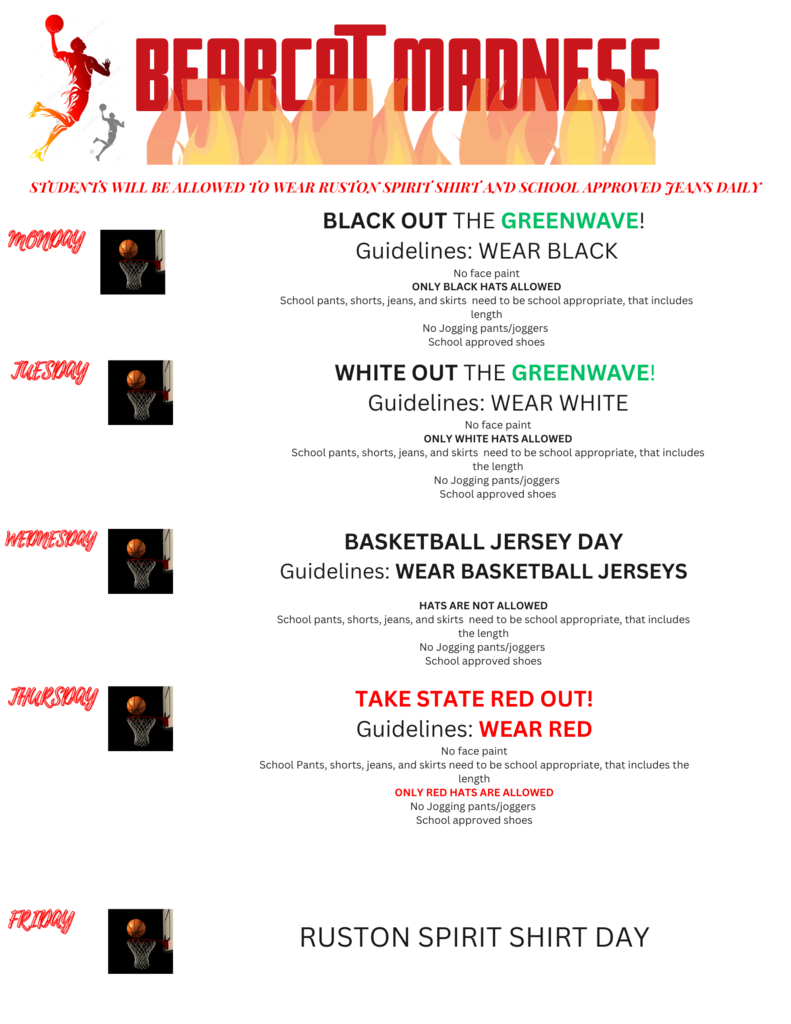 8th graders, please see the information attached.

PLEASE READ CAREFULLY: the date and time of the Belles Pre-Tryout Parent meeting have changed to Thursday, February 23rd at 7:00 pm.


Week 3.5------>
https://5il.co/1p3rs
*Progress Reports will be issued Wednesday. Have a great week :)

Last night the Lincoln Parish School Board approved the 2023-2024 school calendar! To view the calendar for the next school year, click the link provided.
https://5il.co/1ow2j




2nd RJHS approved T-Shirt, Dri Fit, Sweatshirt Ordering Window has opened today, Tuesday, August 9th, 2022. It will close on Monday, Aug 22. Remember inventory is not available for purchase or exchange. All items must be purchased through this site. Please make sure you are purchasing and ordering the correct size, we are unable to exchange. (items ordered this summer will be available for pickup this evening at PREP DAY from 3pm to 6pm)
https://shop.circustees.com/collections/ruston-junior-high-school


RJHS summer hours 7:30-3:00 Office closed : Friday May 26th (1/2 day, closed 11:30-3:00) Monday May 30th Friday July 1st Monday July 4th Friday July 8th Friday July 15th Friday July 22nd Friday July 29th

RJHS uniform dress code policy provides for 2 choices for tops. Your student may wear a short or long sleeve knit polo shirt in either a solid white, red or black (along with a solid white, red, or black sweatshirt with no pockets or hood). The second option is a school approved RJHS uniform t-shirt. RJHS t-shirts and sweatshirts can only be ordered online. It can be worn any day of the week. *There will only be 3 opportunities to order this t-shirt and sweatshirt online. 1st WINDOW/summer: RJHS online T-shirt shop will be open from May 31st until July 1st. T-shirts ordered during this window will be available for pick up at Prep Day on August 9th, 2022. 2nd WINDOW/school starting: A second window opening will be August 9th - August 22. Shirts will be available at Open House or delivered to students in September. 3rd WINDOW: TBA - potentially this window will open the day of our Open House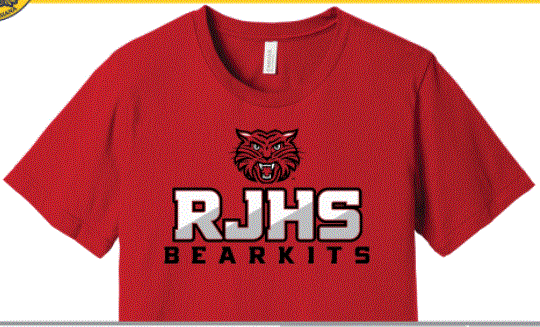 The 2022-2023 PE Uniform ordering window is now open. The first window will close April 19th.
https://5il.co/187tb

Our goal is to have a binder available for your student to check out along with their chromebook when school starts. Both items will be returned at the end of the school year, or if you move to another school, these items must be returned to RJHS. The following items should continually be kept in the student's binder for personal use: 1. Pencil Pouch 2. Personal Pencil Sharpener, that holds shavings 3. Pencils 4. Color pencils 5. Ink Pens 6. Highlighter 4 different colors 7. Two Dry erase markers 8. Cap erasers 9. Loose leaf paper 10. Personal earbuds ***It is suggested that 8th grade students have a TI - 30XIIS Scientific Calculator to keep at home for home use (homework and studying). This can also continue to be used when your student attends high school. This is only a general list and it does not include electives.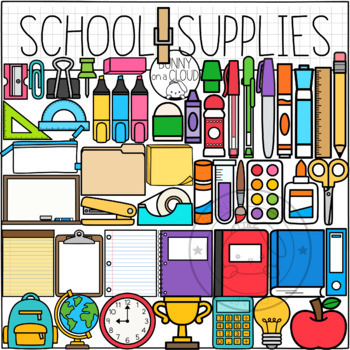 All RJHS School Uniform T-Shirt orders are completed online including payment. *Links for ordering will be sent out utilizing our communication tools. There will be windows for ordering. The first window will be open the month of June. The actual orders will be available for pick up at PREP DAY, August, 9th.